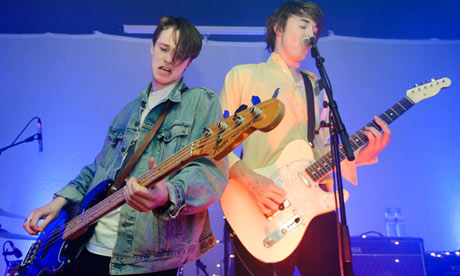 Six months ago, Palma Violets were little more than a rumour – few had heard them, even fewer had seen them play, but their name was on the lips of every record company. They were, it was whispered, the band everyone had been waiting for. On a deathly cold night in London, though, they generate enough heat that young men and women are removing clothing and hurling it stagewards amid a febrile atmosphere: a crowd is staking its ownership of the band while they're still small enough to own, as if sure they'll never get the chance to invade the stage and kiss the members again.
At the heart of Palma Violets is the chemistry between the two frontmen, bassist Chilli Jesson and guitarist Sam Fryer. They're like a more wholesome Pete Doherty and Carl Barât, resting their heads on each others' shoulders, kicking and bustling their way round the stage, always finding their way back to their places barely a couple of feet apart. They are magnetically confident, and it's easy to see why the stage invaders during penultimate song 14 all want a kiss and a hug and the chance to take a line of the song themselves. The pair embrace the attention, Jesson directing a stageside photographer to get a shot of a young woman on someone's shoulders.
But carry on like that too long and you risk becoming a cartoon, unless you have the songs to justify longevity. Palma Violets are halfway there with the songs at the moment. Their palette – bellowed vocals, blustery guitar, booming bass and drums, and organ to add colour, somewhere between Wu Lyf, Clinic and the Modern Lovers – is limited, and they way they use it so narrow that any weaknesses are evident immediately. Thus the thrilling opener Rattlesnake Highway is followed immediately by the drab All the Garden Birds.
The better songs – Best of Friends (NME's song of 2012, which says rather more about the magazine's need for a band to carry the standard of guitar rock than the strength of the song itself), Step Up for the Cool Cats and Johnny Bagga Donuts – rattle along breathlessly, aided by a clever lighting design of whites, reds and blues that heightens their drama. But the lesser ones are clearly there to fill up a headline set. Still, age is on their side. In the accelerated pace of modern pop, where this lunchtime's hero is tomorrow teatime's laughing stock, let's hope they get the chance to fulfill their potential, because they were born to be rock stars – if only they get the chance.