Photo by Oli Scarff/Getty Images
David Cameron, stop saying that you like The Smiths, no you don't.
I forbid you to like it.
http://www.guardian.co.uk/music/2013/jan/11/johnny-marr-smiths-morrissey-politics-pop
Johnny Marr on the Smiths, Morrissey and putting politics back in pop
With the release of his first solo album The Messenger, the former Smiths guitarist talks about finally embracing his old sound, David Cameron and why he and Morrissey don't talk any more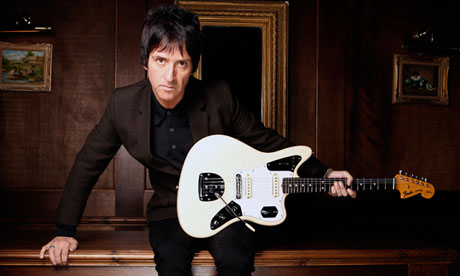 Few British groups have had the far-reaching impact of the Smiths, and few guitarists are as celebrated as Marr. He was recently named NME's ultimate guitarist (ahead of Jimi Hendrix and Jimmy Page), and even has a Salford University honorary doctorate for "changing the face of British music".
"I get a lot of people being very nice to me, even when I don't want them to be," the former Smith chuckles, pointedly. "With one or two exceptions, the people who like the music are always super nice and don't want to bother you. They just want to tell you how much they love it." He is nothing if not grateful to have been part of a band who "mean so much to so many people", but admits there is a downside: "It can be difficult when it's raining and you're running for the train." His grin widens, but he adds, more seriously. "Or you're trying to move on."
In person, the matt black Keith Richards barnet and glittery nail varnish on his plectrum-holding right hand suggest a man who has spent his entire adult life as a national institution. Otherwise he's disarmingly normal, self-effacing but not falsely modest, and – mostly – open. But he sounds very much a man on a mission.
"I felt something was missing from pop," he explains of The Messenger's prickly energy and epic, romantic soundscapes, which handily coincide with the widely predicted return of the guitar to pop's forefront in 2013. "When you hit it right on guitars in pop, it can be vivacious and exuberant and shiny. I've fond remembrances of bands like Blondie. Without being retro, if I'm really in the mood for it, that's what the guitar is for me. If people say parts of the record sound like the Smiths, I'm OK with that because hopefully it's got the same exuberance."
But by 2005, he had been through so many metamorphoses that he couldn't see himself as a UK artist any more. So he went to Portland in the US (initially to join Modest Mouse, before hooking up with the relocated Cribs) to "find some space to play". One night, his fingers found the beginnings of the sort of instantly melodious guitar shape he turned out by the truckload when he was the musical half of songwriting partnership Morrissey and Marr.
"I knew I needed to come back to front a group that operated like that," he explains. "So we all live in Manchester and get together to rehearse a few nights a week even though we don't need to. I just started to act like I was in that group, even though I envisaged a solo record. I didn't want to be in a group where the lead singer didn't want to play guitar any more. So that meant I was the right man for the job." He sniggers. "Luckily!"
Marr denies that he's been stubborn, just single-minded. "It's the prerogative of a young man in his 20s and 30s to be on one," he considers of what seems a partial volte-face, admitting that having been in the Smiths leaves an awful lot of baggage.
"But equally, if you're in your 40s and still carrying that around, then you've got a problem."
"I didn't expect that. I'd written a load of catchy tunes in my bedroom."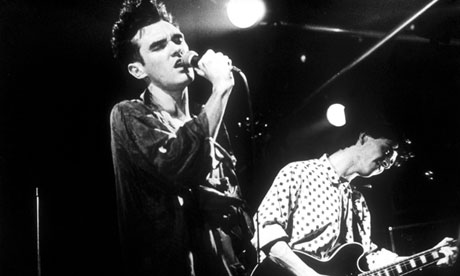 "I know. I seriously did not like him dropping our name. He picked the wrong band."
"I thought it'd been Photoshopped," he admits. "It took a few minutes to sink in that it was real. But I ended up giving it to everyone then. Clegg; the Queen. I was off!" He chuckles.
In fact, Marr reveals that while the two former confidantes were meeting up occasionally a few years ago, nowadays they no longer speak at all.
"We don't have any reason to, to be honest," he says, with a touch of glumness. When Marr remastered the Smiths' back catalogue two years ago, he emailed Morrissey (along with all his ex-bandmates) saying he could hear the love in the music, but didn't hear back. "It was a nice way to leave it, I think," he considers, tiptoeing carefully around too much discussion of his former partner. "You can only try and be friendly with someone for so long without getting anything back. You just think: 'Ah, fuck it.'"
When Marr started Electronic with Bernard Sumner, Morrissey opined: "He's replaced me. I'm not sure what with." Does Marr think he still feels betrayed? "You never know. I don't have any weirdness about it, or any of them."
Marr – whose exit precipitated the split – has long found himself being blamed for the Smiths' demise, calling a meeting after finding himself exhausted through writing the songs, (latterly) producing the records and running the unmanaged group's business affairs. Some months before, a sign that not all was well with the guitarist (who in those days coped with the pressures by drinking heavily, unlike the teetotal, running-and-white-tea regime he adopts now) came when he drove his car into a wall and was lucky to escape alive. But it has long intrigued me – when he called that meeting, did he know that he'd come out of it a former Smith?
"In all honesty, I don't think I did. We just needed a reset, to do things differently. Two weeks' holiday would have been nice." But Marr has no regrets: he's proud that the Smiths did everything at the top of their game. "I'm glad I didn't spend 35 years in the same band. It's just not me."
Any lingering notion of the Smiths as a close-knit gang was finally demolished when drummer Mike Joyce sued the two songwriters over royalties. Marr still sees Andy Rourke, a friend since childhood, and the bassist dropped into the studio during recording of The Messenger. But discussion of the Smiths remains off limits. "If we need to think about what went on in the Smiths then we can torture ourselves by reading those books," he says, referring to the expanding pile of Smiths biographies.
As a little boy, while others had toy cars or teddy bears, Marr had a toy guitar. "Recently, my parents redecorated the house and there were a couple of my really old toy guitars knocking around. So they moved them out, decorated, then put them back, as if they were houseplants."
So when he was recently invited to speak at his kids' school, his wife, Angie, told him not to "terrify" them but to talk about what he knew. So Marr talked about being a guitarist.
"I said: 'If you want to be happy, find something you're good at and make it your life, whether it's being a train driver, architect, or whatever.'" He smiles as he lugs his trusty axe into a waiting car. "There's a lot to be said for being an expert at something."