INTERVIEWS
Girls
Leader Christopher Owens on the stunning new LP, Father, Son, Holy Ghost.
By
Ryan Dombal
, September 13, 2011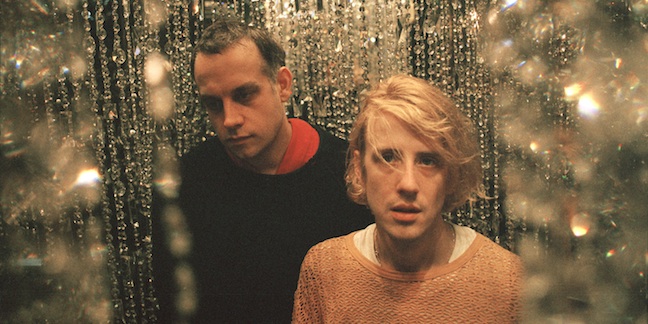 "I struggle with an addiction to serious, very heavy opiates," he says later on in the conversation. "Getting rid of this shit is literally the worst hell you can imagine. I don't know why I always go back to it, but I do." The admission isn't as surprising, perhaps, as it should be-- the 32 year old has made a point to keep his music and his life as honest as possible, even if that means telling strangers about his darkest addictions. This openness is inviting, though, and it's all over Girls' strikingly unguarded songs, which tell of love and loss with the wide-eyed naïvteté of someone half Owens' age.
Featuring warm, tuned-in playing from Girls co-founder Chet "JR" White on bass and on-and-off guitarist John Anderson, the new record expands Girls' referential sound with heavy metal riffs, classical guitar, lighter-ready solos, and belted-out gospel back-up vocals. And at its core is Owens, wonderfully wounded, hapless, and hopeful all at once.
"While we were recording this album I sent a Tweet to Justin Bieber: 'Hey Justin, I'm the lead singer of Girls and you should come be the singer in our band. It'd be great for your career.' Imagine that-- he'd be like the new Julian Casablancas!"
CO: You caught that? Yes! I even sang like him on it. Each song has a different celebrity name attached to it-- when I go to the studio with JR, I say, "This is a so-and-so song." I'm not going to give away who they all are, but "Jamie Marie" is the Randy Newman song. The great thing about Randy Newman is he just says whatever the hell he wants. I copied him, man. It's cool. I want people to know those things.
"As I was writing 'Love Like a River', I could hear Beyoncé singing it, and it was beautiful. If she sang it, it would be a fucking number one hit, I guarantee you."
CO: My whole approach from day one has been to be honest. It's been disastrous to talk about my past and drugs in interviews, but it's honest. It's also been a good strategy for me, because it means I'm never at a loss for words.
And I wrote "Vomit" so long ago and I believed in it so strongly. There was a few times where people thought, "I don't know if this is a good song for this album." But then we recorded it and everyone's mind was blown.
"I think about the Bible in a completely different way now.
For example, I like Jesus very much-- he was one of the first rock stars."
But, as far as the title "Vomit", in the Bible there's a book called Proverbs which is written by King Solomon, son of King David, during the time when the Kingdom of Judea was at peace and flourishing. King Solomon was known for his great wisdom and he also fancied himself a poet, a songwriter. He wrote this verse that goes exactly like this: "As a dog returns to his vomit, so does a fool return to his folly." So, to me, "Vomit" is about me, the fool, returning to his folly. This girl is mean and she doesn't want me anymore, but I was like a dog returning to my vomit every time.
CO: I could list 20 more songs that could've been on this album, but it's better that they're not. We did talk about making a 20-track record, but we had to stop because we couldn't pay for more time in the studio. But there's [another] album which is all written-- the songs that I played in that bathtub are numbers three, seven, and eight on that album. They go together, so they couldn't be on this record.
I have 83 songs that have not been recorded. So that's a lot of work sitting around waiting to get done. There are moments of frustration when I'm on the road and I'd rather just be making these songs. But you need to give people a break.
But it's very true that my teenage years were robbed from me. I don't have a grudge, though. I've gained wisdom from it. Like, I learned to read not from going to school but from memorizing passages in the Bible, which is beautiful, old Shakespearean English. That's a good education. But I did pretty much just freak out in my teenage years because they were oppressive.
"I thought Father, Son, Holy Ghost was an epic title for an epic album."
CO: Oh yes. I read it for fun now, and I like it very much. I think about it in a completely different way. I like Jesus very much, for example. I think he was a neat guy. I look at his words and actions in conjunction with the ideas of the Old Testament, and he was one of the first famous radicals, one of the first rock stars. Jesus was cool, everybody knows that. But there was a time when you could've told me anything interesting about Jesus, and I would've put my fingers in my ears and said, "Shut up, fuck you."
I had a big block of years where I was very angry, and I had a very bad association with Children of God. If I kept that attitude, I probably would have committed suicide by this point. I was very truly depressed. But I met a man named Stanley Marsh 3 and my relationship with him encouraged me to be positive and optimistic. He was basically the person who was like, "I think what happened to you is very neat," and he would explain why. He made me feel very good about myself. I will be indebted to him for the rest of my life for that and a million other reasons.
CO: No. The one thing I didn't want people to think is that it's some reference to the Children of God, like, "Ah, yes, finally, a reference to the torturous childhood." It's not that. In churches, you repeat these phrases, and they become very key. But that wasn't the kind of lingo we used in the Children of God. We said, "I love you, brother; I love you, sister." We just read the Bible, and then talked very normally to each other. It was very anti-church, very much just people living together and being good to each other, essentially. Things got out of control, I guess.
"So many people wait around for somebody to say 'I love you.' But sometimes it's just as much fun to love somebody that doesn't even think about you."
CO: I am in a healing process with my mom. We're both very friendly, and we've talked for a long time. We've never been angry at each other, but there's been very dark elements in our relationship. There are a few efforts on this album to address those things. I think the reference in "Honey Bunny" is a very beautiful and positive one that will help her feel not so bad. Because she feels bad, she really does. And "My Ma" is a song about admitting that I need her: "I'm looking for meaning in life, and you my ma." It's like saying, "I've acted rebellious, and I left on my own, and I didn't talk to you much, but I really would like to get back together." And we're doing that-- we just visited and it was very nice. The references are a very realistic vision of the healing process occurring between her and me.
It's saying, "Love is just a song." If you wanted a song, you could just find one, write one, you could get that. And love is something you can make, too, and you don't have to get it back from somebody. I can just love the hell out of someone, and it's just as rewarding as if someone was very much into me. Like, I love Gene Kelly, and I can watch him on DVD whenever I feel like it. It's a wonderful thing in my life and it's real love.
So many people wait around for love to be found for them, for somebody to say, "I love you." But sometimes it's just as much fun to love somebody that doesn't even think about you or talk to you: She doesn't have to love you back, you can just think she's neat, and that's fine.
And the line about keeping my feet on the ground is about drugs. "Just a Song" is the most personal one on the record. It's the closest to what I feel right now. I struggle with an addiction to serious, very heavy opiates, which is the reason I'm sick right now, because I'm cleaning up for the tour. I have to get clean, otherwise I have a bad attitude, or I'm looking for it all the time, or I get sick on the road and I'm bad during the promo, which is not acceptable. I've done this for every tour. Getting rid of this shit is literally the worst hell you can imagine. I don't know why I always go back to it, but I do. It's a big deal to go through, very serious stuff. And that's what that song's about, and I love it.
CO: It fuels the music in a very serious way. It allows you to focus on one thing-- I can pinpoint an idea or an emotion while very heavily medicated, which is how I write most of my songs. This is a reoccurring theme. All of my heroes have this same exact problem, except maybe Randy Newman-- maybe that's who I should be hanging out with. I think he and I would have a good old time, two pianos back-to-back.