Behind the music: Bass, the final frontier
Freed from the encumbrances of a band or the need for record sales, DJs such as Skrillex are discovering a huge new audience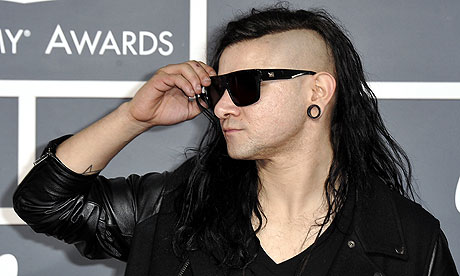 A songwriter and producer I know recently told me that every time he meets US record labels these days they ask if he's got "any of that
dubstep
stuff". However, the only way you'll hear dubstep on US radio is if a few bars are slotted into a Britney Spears track. This is one of the reasons why
UKFDubstep
(there's also a
UKF Drum & Bass
channel) has become one of the most popular music channels on YouTube, currently racking up
almost 1.2m subscribers
– with 60% of them coming from the US.
AEI Media, the company behind the channel, is doing its bit to employ young British talent. It was founded by Diluk Dias and James Cotterill 16 years ago in Sheffield to promote
drum'n'bass
nights, and it recently hired 19-year-old Luke Hood, founder of UKF, as head of music. Apart from promoting club nights and running music channels, the company also has a record label – and a newly formed joint venture with US publisher
Verse Music
will create the first specialist bass music publishing house in the world.
Pretty much all their record deals are joint ventures as well, since most DJs earn enough from touring to not require an advance. There's also usually no need to hire musicians to play on the records (
Skrillex
has said he left the emo hardcore band From First to Last to focus his attention on making "music I could make alone on my laptop").
As Simon Cowell recently said, DJs are the new rock stars. Some women have always swooned over DJs, but dubstep acts such as
Borgore
, from Israel – whose first album was called Borgore Ruined Dubstep – take it to a whole new level, says Karl Nielson, a director of AEI Media. "The women just go nuts for him."
UKF recently put on a
Bass Culture night
at Alexandra Palace in London, featuring Nero, Chase & Status, Knife Party (a Pendulum side project) and
Skrillex
. The 11,000 tickets sold out three months in advance, way before the inclusion of Skrillex was even announced. "Had we known they were going to sell so quickly we wouldn't have had to pay to bring Skrillex over," Nielson says.
Their forthcoming Bass Culture night at Brixton Academy, on 2 March, sold out in less than three days. Yet there are difficulties in booking tours for emerging bass music acts. "Guitar bands can hone their craft in the Barfly, but our acts have to make quite a big leap right from the start – it's not like you can put them on at
the Bull & Gate
," he laughs. Then there's the demographic. Nielson says 42% of their audience is 14-18, and another 42% is 18-24.
"Then again, with YouTube you don't have to be in a club to hear the music," he explains. And there are underage club nights, such as
Under the Radar
and
Let's Go Crazy
. "Half-term on a Tuesday you can find thousands of kids at Ministry [of Sound], dancing to drum'n'bass and dubstep all night, paying £25 a head for the pleasure. It's the only club where I've seen people being carried into the club," he says, referring to the old trick of consuming all the alcohol for the night before entering a "dry" club.
Touring is where these acts really have an advantage over guitar bands. Whereas rock bands rely on tour support from the label – even low-budget hotels and transport for a band, their crew and equipment quickly adds up to tens of thousands of pounds – DJs have hardly any overhead (they don't even have to travel with record cases any more), and even a moderately successful one can make thousands of pounds each night. No wonder Skrillex says he doesn't care if people download his music for free (I wonder if his label, Warner Music, agrees).
It's true many bass acts sometimes perform live with musicians, but they often don't. "We can have one of the guys [in
Nero
] playing in the US on the same night the other is playing in Australia," explains Nielson. "Cause most people don't know what they look like."
Still, bass music has some way to go before becoming mainstream (note
this blog
from christwire.com accusing Skrillex of using "Satanic and homosexual influence to win Grammys"). This summer UKF is setting up a residency at Amnesia in Ibiza for the first time, but Nielson says it's taken a while to pop the residency cherry on the island. "Swedish House Mafia and David Guetta doesn't scare the typical Ibiza VIPs. Our music does."