The
New York Times
today reports that the investigation into collusion between Team Trump and Russia was codenamed "Crossfire Hurricane" by the FBI, after the opening line of The Stones' classic song "Jumping Jack Flash".
Observers will recall that Donald Trump has been using another Stones song, "You Can't Always Get What You Want" at rallies during the campaign and continuing to the present day.
Add to that Keith Richards badmouthing Trump in the press about the past and the present and you have a very complicated relationship between The Orange One and The Rolling Stones.
Personally, I've always thought "You Can't Always Get What You Want" is a strange song for a politician to play (shouldn't they tell you that you CAN always get what you want?). It's just Trump trying to do a Scorsese and use baby-boomer soundtrack memories to trigger emotional responses.
Trump's use of the song recalls debates would "fair use" and the history of artists asking politicians to "stop and desist" using their songs at rallies. Having an artist declare that they disagree with the message of a politician using their song ought to be enough to convince the politician to choose another song. Some question whether an artist can or will actually sue someone for using their song at a public rally without permission and if they would be successful in such a suit and at what cost in time, money, and publicity.
Add to that, in The Stones' case, that much of their publishing rights were given to Allen Klein (the most successful non-musician in rock history) in a settlement, leading to the absurdity surrounding The Verve's "Bittersweet Symphony", Richard Ashcroft's masterpiece that was nearly scuttled by Klein's maneuvering, which resulted in Klein receiving more profits from the song than the actual composer (and the composers Ashcroft was accused of copying). All due to a short sample (about 12 notes by my count) in "Bittersweet" of an orchestral version (by Andrew Loog Oldham of "The Last Time"). One of the greatest rock n roll swindles of all time.
Why Keith Richards had to get rid of Donald Trump
"Now America has to get rid of him (Trump). Don't say I didn't warn you!"
Original at BBC.com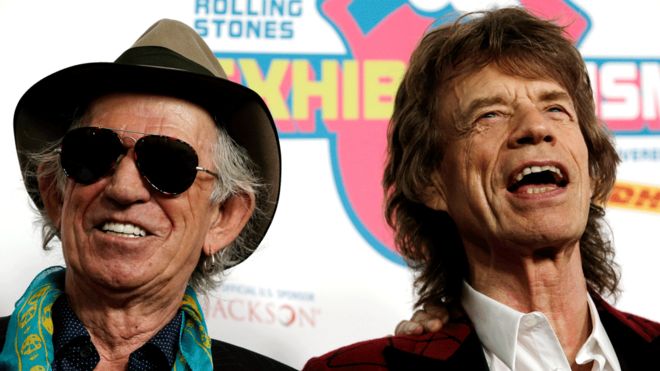 Rolling Stones star Keith Richards says he can't be bothered to get angry any more - but the last time he did was nearly 30 years ago with Donald Trump.
"He [Trump] was the promoter for us in Atlantic City [during 1989's Steel Wheels Tour]," he told the BBC.
"[It was billed as] 'Donald Trump presents the Rolling Stones' [with the band's name written in miniature]."
"I got out my trusty blade, stuck it in the table and said: 'You have to get rid of this man!'"
He joked: "Now America has to get rid of him. Don't say I didn't warn you!"
And he wasn't the only one talking politics.
Ahead of the band's No Filter Tour, frontman Mick Jagger spoke about Brexit.
"I'm not really happy with the status quo. In the UK I think we're going through a difficult moment. It's very hard to understand all the difficulties we're having with Brexit.
"The current government seems to be having a very hard time to navigate through it. Everyone would like to see a fast resolution and a united front rather than a split."
'Weird existence'
He also referred to Trump's choice of song to follow his victory speech when he became US president last year, the band's You Can't Always Get What You Want.
"It's a funny song for a play-out song - a drowsy ballad about drugs in Chelsea! It's kind of weird. He couldn't be persuaded to use something else."
Jagger says he's still enjoying being a rock star but admits he doesn't know what else he could do.
"I've really done little else in my life - it's a bit limiting. It's a very cloistered, weird existence. I'm very happy to do it but I don't know about much else."
The tour kicks off on 17 May in Dublin before taking in several UK dates followed by concerts in France, Germany, the Czech Republic and Poland.