Damon Albarn: Gorillaz, heroin and the last days of Blur
Do Blur have a future? Are Gorillaz gone for good? Is his feud with Noel Gallagher really over? The heroin issue… Damon Albarn answers some tricky questions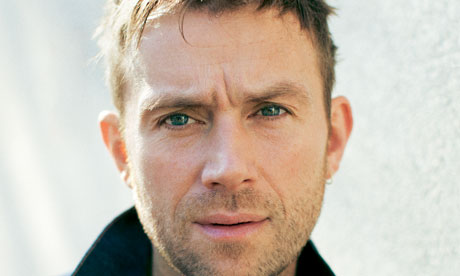 Soon enough, Albarn tells me, what we can see is set to be transformed by a 34-storey student hall of residence. He is not best pleased, and having registered a planning objection, his pain has been poured into a new song he plays me just before I go home, full of references to "men in yellow hats" and a world "where the money always comes first".
A tentative smile. "Which is quite nice, because I don't really see any more recordings after this. So it's nice to have finally done one song where we did it properly."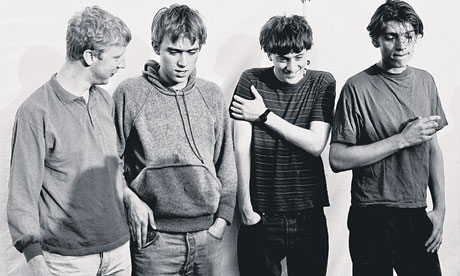 Albarn, though, is going against the grain – and what he's talking about sounds like a full stop, certainly as far as new music is concerned. "I believe so," he says. "I believe so. I find it very easy to record with Graham. He's a daily musician. With the other two, it's harder for them to reconnect. You know what I mean? It's fine when we play live – it's really magical still – but actually recording new stuff, and swapping musical influences… it's quite difficult."
So no more Blur records?
"No, I don't think so."
And will you play live again after Hyde Park?
"No, not really."
This is even bigger news. So that's it?
"I think so, yeah," he says. A little later, he goes on: "And I hope that's the truth: that that's how we end it. I don't know: you can write scripts, and they always end up going… [pause]… well, one thing I've learned, and I'm sure you're exactly the same, is that everything I think I've got totally sorted out, and I know exactly what's going to happen – it never works out that way…"
So how should I put it? That in all likelihood, this is the end of Blur?
"How have you got that?" he marvels. He says he must have been 12 or 13 at the time.
And do you recall what playing Jupiter actually involved? "A lot of cotton wool for a beard. And a piece of lightning made from BacoFoil and card."
And therein lies a tale. In the past, Albarn has talked about a point in the late 1990s where he broke through "the barrier of self-consciousness" and "never really looked back". And I wonder: what triggered it?
He gets up, goes to the window, and distractedly looks at the view. "How does one talk about one's journey through life? It becomes a very different thing, doesn't it?"
Five minutes later, we're sitting on the balcony, talking about 13, whose second half is among the most underrated swathes of music in his career. And I ask him again: what happened?
"Oh God. Well, what do you think happened? Be honest."
"That's an astute observation on your part," he says, "and I wouldn't disagree with it." For some reason, he then shakes my hand.
And did they with you?
"I think inevitably, they do with anybody who… you know… has that innate, spiritual kind of yearning."
In other words, nobody manages to do heroin on their terms.
Interestingly, during the time we're talking about, heroin sent a lot of musicians into torpor and silence, as they hid behind their curtains. At the very least, a lot of them slowed down. But Albarn didn't. "No. I've always got up in the morning, excited about making music. I genuinely feel lucky in that sense."
He regains his coherence. "It wasn't just that that changed me profoundly. It was going to Africa. That was a rehabilitation, in a sense, from that previous experience. And the opposite: it was all about clarity: freedom through clarity. An amazing, beautiful, humbling experience."
"It was just a really inspiring, colourful, bright, gorgeous place, you know? Apart from the music, which really is like a river that flows through Bamako [Mali's capital], I think the recycling market was the thing that stayed with me. It's just so huge…" He points to the top of a nearby street, and then indicates an area of around a square half-mile, at least. "You have women and children essentially, in temperatures up to 100 degrees, on the rubbish, picking out anything that has some use… they take the plastic and metal and rubber, and that's given to cleaners and renderers and preparers, and then down to where the road is, where there are ploughs, and rockets, and computers, all for sale.
"It's shocking in the sense that you think, 'This is really hard work.' But it's very practical. And extremely honest, and very productive. And if you could translate that humility, and ingenuity – well, there are lessons for all of us."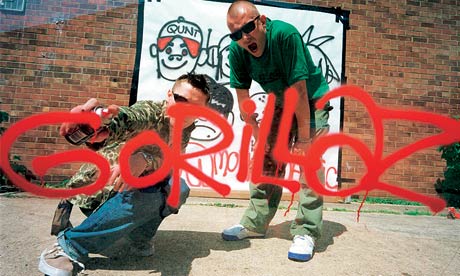 What is it like since its catastrophic banking crisis? "Icelanders are a bit more durable. They're true existentialists. They really understand their environment and why they are all connected to it. I think it's to do with having lots of space."
So: Iceland, his drug-assisted artistic breakthrough, two months in Jamaica in 1999 ("An absolutely wonderful time," he later said. "I really felt like I'd escaped the darkness") – and, let us not forget, the birth of his daughter not long before. "All powerful experiences," he agrees. "And having a child, the most powerful of all of them."
"Gorillaz was a really wonderful, spontaneous thing," he says. "It started with two people sitting on a sofa, going, 'Let's make a band.'
'All right, I'll go into my studio and draw some characters.'
'I'll go in mine and make a tune, and we'll put them together.'"
Which brings us to another of today's revelations. Will there be more Gorillaz music?
"Er… unlikely."
Really?
"Yeah."
That's a shame. Do you feel you're done?
"Jamie does, which is fair enough. I think we were at cross purposes somewhat on that last record, which is a shame. So until a time comes when that knot has been untied…"
The project's demise, he says, is a "long story", which seems to have reached a head in 2010, when Gorillaz toured as a huge band, and Hewlett's visuals were not nearly as central to the show as they had been. "It was one of those things," Albarn says. "The music and the videos weren't working as well together, but I felt we'd made a really good record, and I was into it. So we went and played it."
So are you and Hewlett talking? Did you fall out?
"Erm… well, that sounds very juvenile, doesn't it? But being juvenile about it, it happens. It's a shame."
"I met him in Mayfair, in a nightclub. What normally happened in that situation was, we had a way of looking a certain way and walking past. It was like a code. But we broke the code that night, instantly. We looked at each other and said hello, and it made all the difference. A lovely man."
A man who, in 1995, said he hoped Albarn would "catch Aids and die".
He shrugs. "I know. There you go. I like his sense of humour. I like people I can be daft with."
Part of their rapprochement, he acknowledges, is that back in the frenzied era of Britpop, they had similar experiences at the exact same time. Coincidentally, they will soon have something else in common: an artistic life without the band that made their name. Which brings me to the last question: with Blur and Gorillaz gone, how will Albarn feel, setting out on a future with neither of his most famous brand names to help him?
"I'm just doing what I always do. It's a bit daunting sometimes, but it's important to keep challenging yourself. Maybe that's really old-fashioned." He thinks for minute. "I'm not old-fashioned, though. I'm…" He gropes for the right word, and then gives up, evidently itching to get back downstairs to work on some music. Below, the men in yellow hats are hard at work, getting ready to blot out the view for ever.
• Dr Dee is released on 7 May on Parlophone Records.