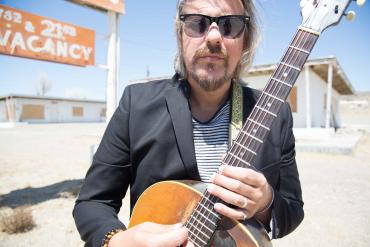 It's always a daunting task to re-create a song with monumental success as "Lovesong" by The Cure. The 1989 hit song which peaked at #2 on Billboard's Top 100 chart, was on the UK band's eighth studio album
Disintegration
which helped spin them into international alt-rock superstars. Fastfoward to today, LA indie rock/alt-country artist Brad Byrd releases his own rendition of the popular song today, and he shares his inspiration for the cover as well as what he's got planned for 2019...
As an artist in the indie rock/alt-country genre, what was your inspiration to cover the 90s alternative song, "Lovesong," by The Cure?
I was on recent trip to Big Bear, CA and I heard "Lovesong" on the radio, and it suddenly hit me that this might be an interesting track to cover and perhaps slow it down a little. I always have an ear out for songs like this. I grew up with The Cure, they were one of those bands that were the background soundtrack to my high school years.
Your songs have appeared in dozens of national film and television shows, including New Girl (FOX), American Housewife (ABC) and Keeping Up with the Kardashians (E!). Do you write songs with the intention of licensing them out? Or do you find your musical style is more appealing for music supervisors?
I just write songs and record them and hope for the best really. I don't get caught up in what would work better for film/tv placements. I'm telling my story through my songs, and if one of them gets selected for placement, then that's just an extra bonus really for me, I guess I've just been lucky to date.
How did you decide to start a music venue and artspace in your garage?
My mother-in-law came up with the idea, actually. My garage is my studio here in Highland Park, CA and I have the garage door open most of the time when I'm in there rehearsing, recording, and painting and people come by and hang out sometimes and listen and watch and check out the paintings. One day she (Martha) said, "Why don't you do shows in here and open it up to the public as an art gallery and performance space"? and boom..."The Garage" was born!
What's a typical Brad Byrd show like?
I try to keep it interesting with a mix of songs in my catalog that are both upbeat and intimate. I like my records and my shows to have a lot of dynamic range to them. So song choice is important. It can't all be the same tempo and key, ya know? I'm very grateful to have a killer backing band so that helps for the full band shows! I usually have paintings for sale along with other merch so it can get colorful. I think that adds a nice element to the live performance that you don't see all the time with most singer/songwriters.
With the upcoming release of your new album 2019, what else can we expect from Brad Byrd in the New Year?
Yeah, my fourth full length LP
Phases
will come out in late spring 2019 and I'm very excited. I had an amazing team help me produce this one, and I think the songs and the sound of it is the most realized effort yet for me. I really think this record is going to open things up for me more. Blessed to have some of the top studio musicians in LA playing on this record, and even a guest appearance from Kay Hanley (Letters To Cleo) singing backing vocals on "American Life". It's going to be a busy and exciting year, lots of shows, and touring over the spring, summer and into the fall. Looking forward to it....
Here's Brad Byrd's new single, his rendition of "Lovesong" by The Cure, out today: