Hot Jazz, Cool Blues & Hard-Hitting Songs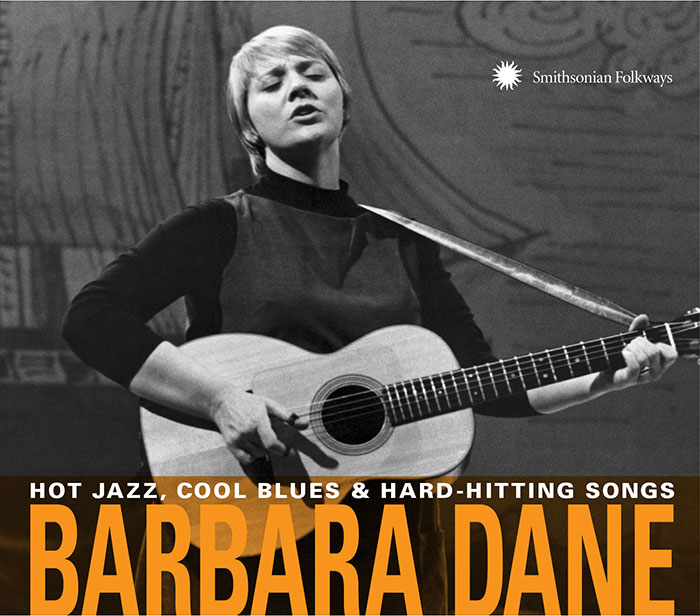 From Smithsonian Folkways: This 2 CD retrospective reflects over 60 years of Barbara Dane's musical history in folk, blues and jazz. The 38 tracks include 14 never-before-released recordings, featuring collaborations with Lightnin' Hopkins, the Chambers Brothers, Doc Watson, Pete Seeger, Memphis Slim and Willie Dixon, Art Hodes, and others.
Dane's singular trajectory is as an outspoken and indomitable artist who struck out on her own path, singing for peace and social justice.
You can purchase the collection here...
Barbara & Doc Watson
Barbara & Lightnin' Hopkins
Barbara & The Chambers Brothers
Barbara Covering Dylan
DEAR FRIENDS,
I've never recognized borders: all music is a source of great wonder and revelation for me, and I suspect the same goes for you, since you have dared to step into my musical world for a visit. Welcome! I hope you find things here that will surprise you as well as some beloved old favorites that will comfort you.
When Smithsonian Folkways suggested bringing a few of my songs from each of the labels under their roof into the same virtual room together, it felt a little like reintroducing long lost brothers and sisters to each other. I'm deeply touched by their vision, making possible this family reunion to mark my 90th year.
But still, there were important parts of the picture that were missing. As it happened, we had recently unearthed a treasure trove of never-before-heard material on 7" tapes from dusty boxes in my basement.
To my delight and surprise, we found a great deal of music worthy of sharing there, much of it made with beloved musicians who have been dead for years now. You'll find samples of some of it here, including collaborations with my dear musical partners Kenny Whitson and Wellman Braud, some informal teamwork with Doc Watson, a late-night jam with Willie Dixon and Memphis Slim, improvised harmonizing with the Chambers Brothers, and a rally in support of coal miners with Pete Seeger and Hazel Dickens.
With great pleasure I offer you these musical renditions unsullied by commercial concerns, made entirely by musicians opening our hearts and tendering our skills mostly to each other, in moments of abandon, inspiration, and joy.
I take this opportunity to acknowledge all my musical collaborators and bow deeply in their direction.
I've been working on my autobiography for some years now, and there you will find many stories, some about my hometown of Detroit during the Great Depression, my improvised forays into the stages and backrooms of the jazz and blues world, mindful marches for peace and civil rights, clandestine tours in dangerous places, and my discoveries of people and music along the way, including friendships with folks like Mama Yancey, Lenny Bruce, Count Basie, Pete Seeger, and others whom you will meet there for the first time. And unavoidably, slices of my personal philosophy.
Many of these experiences are reflected in this musical collection. I hope my abiding love for this benighted country is also apparent, along with my steadfast support of the 99% of people who suffer and struggle every day to keep it going, and my determination to expose the hypocrisy, cruelty, and greed of the 1% who seek to profit from them.
You may also discover how a young white girl, taught to walk and talk with Jesus, followed a different path, to a secular world, working for the same peace and justice for humankind that he was willing to die for. And I hope you notice that it is possible to speak your mind in pursuit of that world and still survive. You may lose a few chances for fame and even fortune, but you will gain a priceless dignity and a seat on the train of humanity with destination justice.
In the end, it's all about respect and love, the communication and understanding that can bring peace to all that we love and respect. Keep your heart, hands, and mind wide open. Go well each day, and live a musical life.
All praises to the organizers of solidarity among the world's people. And remember the words of Muhammad Ali: "Impossible is not a fact. It is an opinion."
Hasta siempre,
Barbara Dane
Oakland, California, October 2017
Barbara in 1964
Barbara in 2017 with Tammy Hall
Last year, while reading Ian Zack's wonderful Say No to the Devil: The Life and Musical Genius of Rev. Gary Davis, I was struck by the charming friendship the book painted between Rev. Davis and Barbara Dane during the 1960's folk revival (they often played on the same bills at venues and festivals) and was delighted to find out Barbara was still recording and performing and was about to turn 90!
It led me to do a deep dive into her work, especially with The Chambers Brothers and Lightnin' Hopkins, and both of those albums have been in heavy rotation in my world for a year now.
It is inspiring to listen to Barbara's firm and loving commitment to peace, social change, and justice. We need so much more of those sentiments here today.
Here's hoping this new collection gets the attention it deserves and that Barbara and her work continue to inspire awe, anger, and hope; long after Trump and his ilk have been confined to the garbage dump of history.